A guy at my boyfriend's work has an obsession with buying lollies and confectionery in bulk off eBay and the like. His latest haul - 10kg of M&M's! - was of greatest interest to me as I am famous among my friends and family for M&M; Chocolate Chip Cookies Recipe. The guys managed to get the M&M's for $5 a kilo (sounds weird talking about chocolate by the kilo doesn't it?), which is pretty much half price in my neck of the woods, so they did well.
Chris (my boyfriend) got his hands on 1kg and kindly donated half of it to me for the purpose of cookie baking. I say the word 'donated' loosely, as these cookies are one of Chris's favourites and he will inevitably be eating a lot of the cookies resulting from today's baking.
It is very hard to tempt Chris with something sweet - he isn't much of a sweet tooth at all, but for some reason (probably because they are so irresistible!) he will eat these like there is no tomorrow. I usually make a batch of them for his birthday, Valentine's day or our anniversary, although I didn't quite get around to making any last month for our 3 year anniversary, so hopefully the double batch I made today will make up for it, or at least what is left once my brother, Luke, gets his hands on them.
I know this is a big call to make, but I am going to make it - These are the BEST cookies recipe ever... yeah, I said it, and I mean it. If you like your biscuits with a slight crunch on the outside, soft & chewy on the inside and full of oozing chocolatey goodness, then I am sure you will agree with me too. It's quite simple to make too, just make sure you use good quality ingredients like dark choc chips and unsalted butter and you too can be enjoying these in no time. So without further ado, here is the recipe!
M&M Chocolate Chip Cookies Recipe (Makes approx. 30)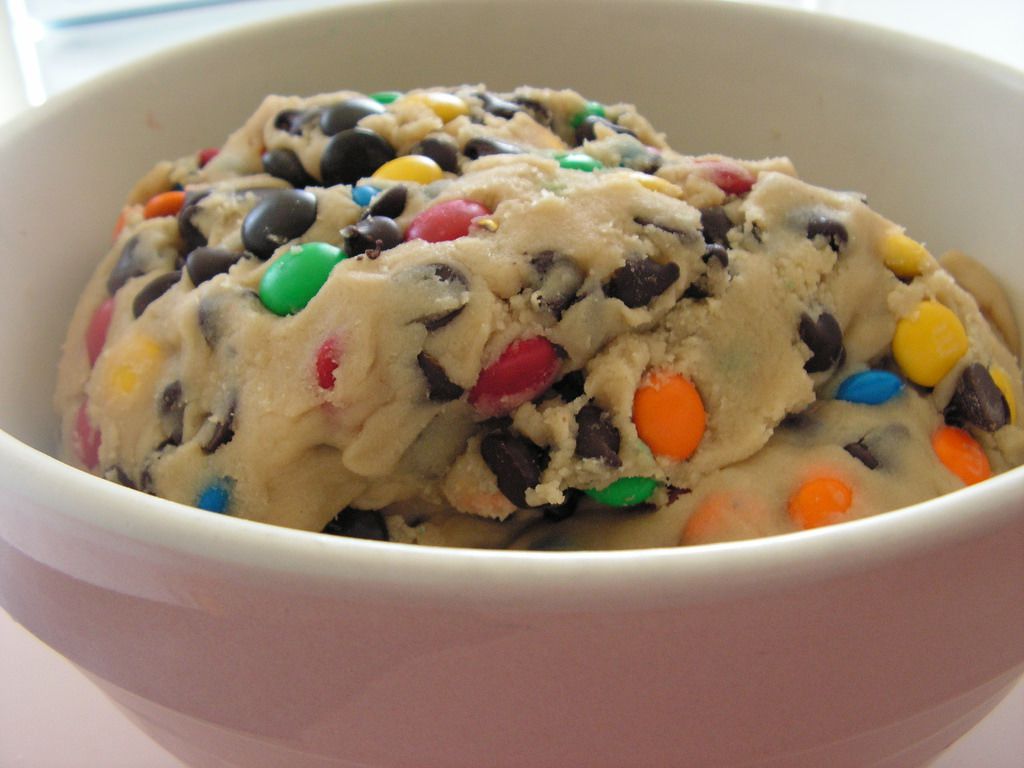 Firstly you will need to preheat your oven to 180C and spray some biscuit trays with oil. When I am making a big batch of cookies like this I like to have 4 trays greased, the first two go into the oven and then I keep rolling the cookies into balls and putting them onto the second two trays while the first lot are cooking. But you could roll them and put them on a plate if you don't have any extra trays.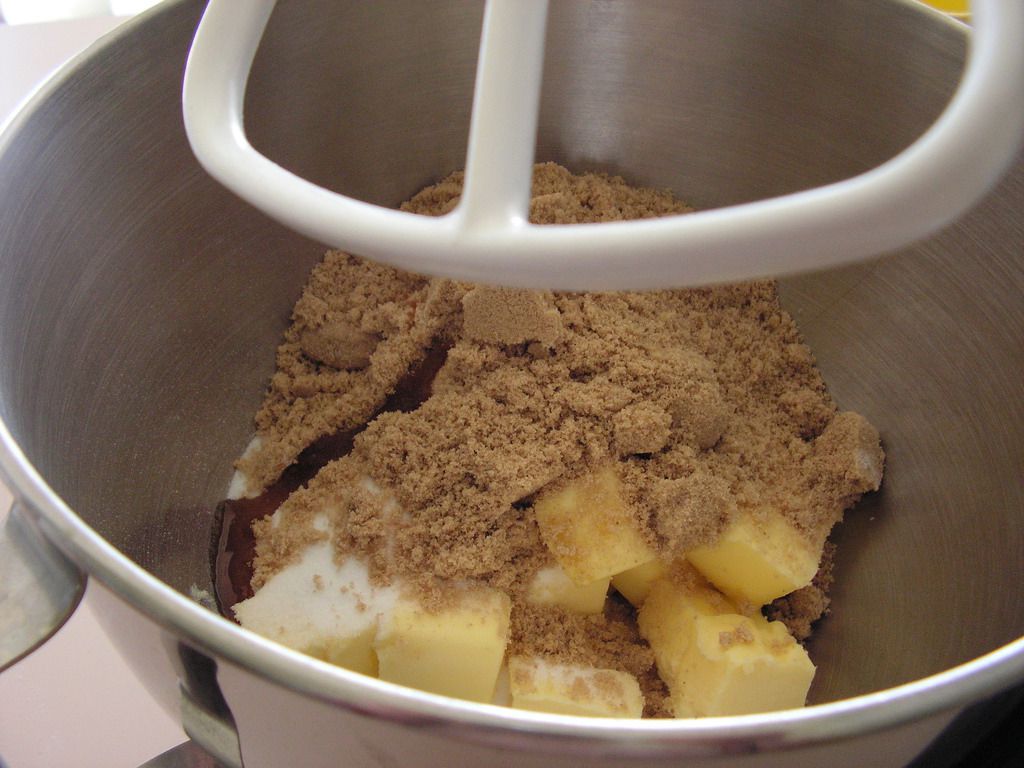 Now is the time to get out your trusty wooden spoon, electric mixer or kitchen aid and beat together 125g unsalted butter , 1/2C caster sugar, 1/2C brown sugar & 1/2tsp vanilla extract (You can use vanilla essence, but the extract is thicker and has a stronger, more natural vanilla flavour). Just beat them until they are paler - I say paler because the brown sugar will prevent it from going really pale, then add a lightly beaten egg and beat some more until it is well combined.
Sift in 1 3/4C self raising flour & 1/2tsp salt and mix well with a wooden spoon. Then, using clean hands, mix the dough and squish it until it all comes together.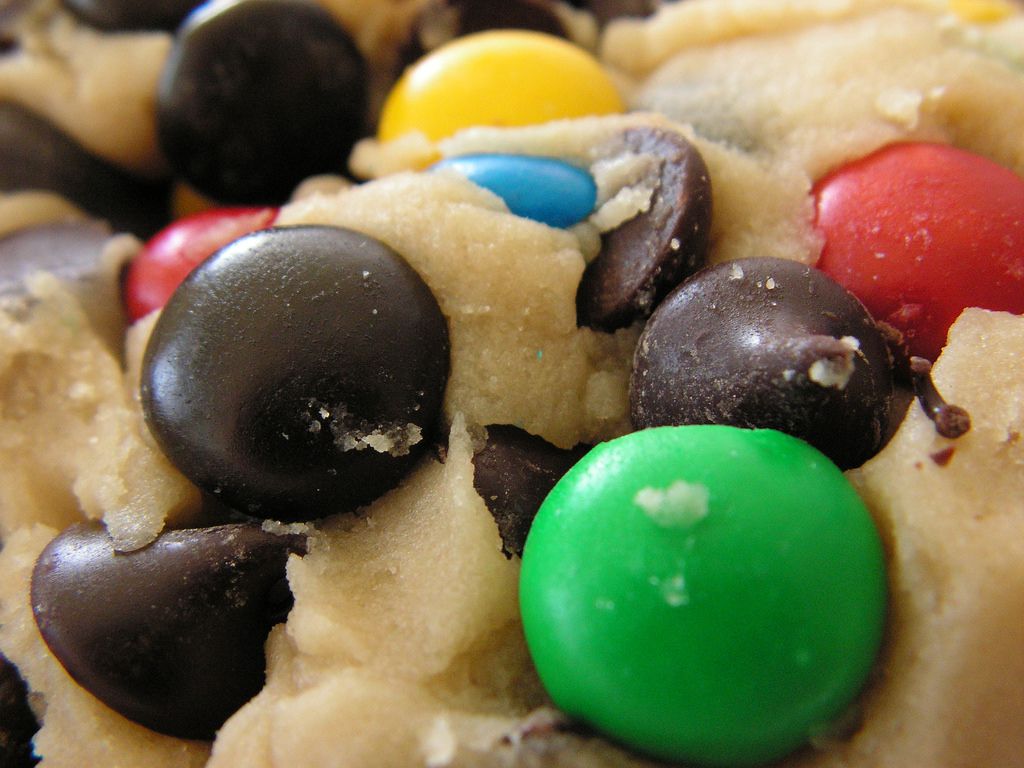 Add in 3/4C dark chocolate chips & 3/4C M&M's, and mix in using your hands - this gets the best distribution ;) Here is my biggest tip to make your cookies absolutely oozing with chocolatey goodness - After mixing in the chocolate and M&M;'s, keep adding more of both until the mixture won't take any more. You know you've put in enough when you try to fold in some more and others fall out because there is no more room! I usually end up using 250g of each.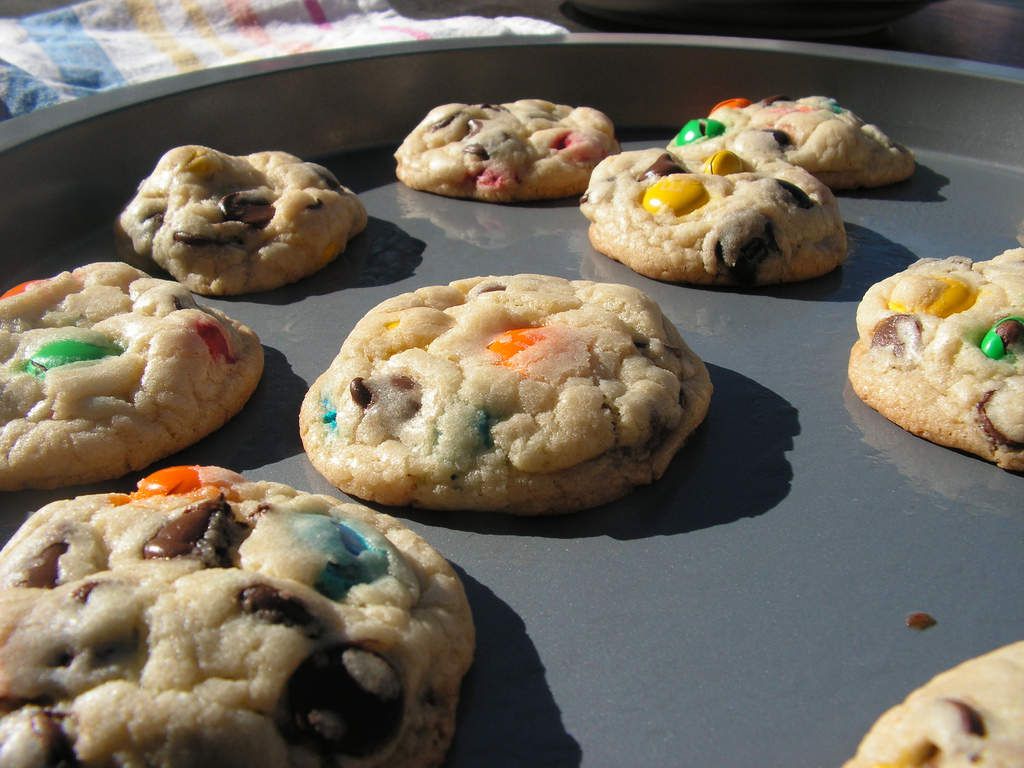 Shape the dough into small balls and place on prepared oven trays. Make sure you allow a little room for them to spread as they do spread a bit. Bake in the preheated oven for 10-12 minutes, they will still look pale and a little uncooked when they should be taken out. A good way to tell is the bases will be a little browned, but the top of the cookie won't look set. Take them out of the oven and allow to cool for 5 minutes so they are easier to get off the trays.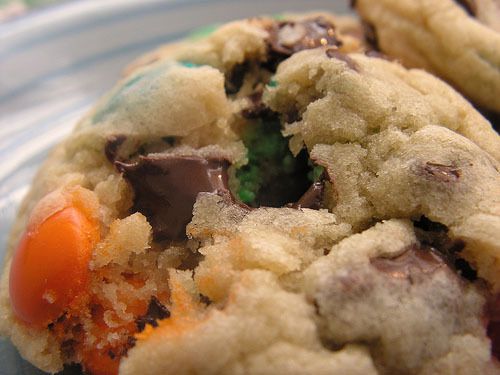 Enjoy them while they are still warm and gooey, yum! I've had so-called M&M; Chocolate Chip Cookies Recipe in cafes before (you know the ones, with the M&M's pushed into the top of the cookie so they look all colourful, but the inside is all bland without a chocolate chip in sight) and they just don't stand up to these ones.
I have no idea where the original M & M Chocolate Chip Cookies recipe came from, but i think it's from http://bllblog.org and I have changed it the recipe so much over the years that a source probably wouldn't be of much use to you anyway. Anyway, let me know how your baking goes, I'm off to bake the other 50 biscuits and spread the love :)